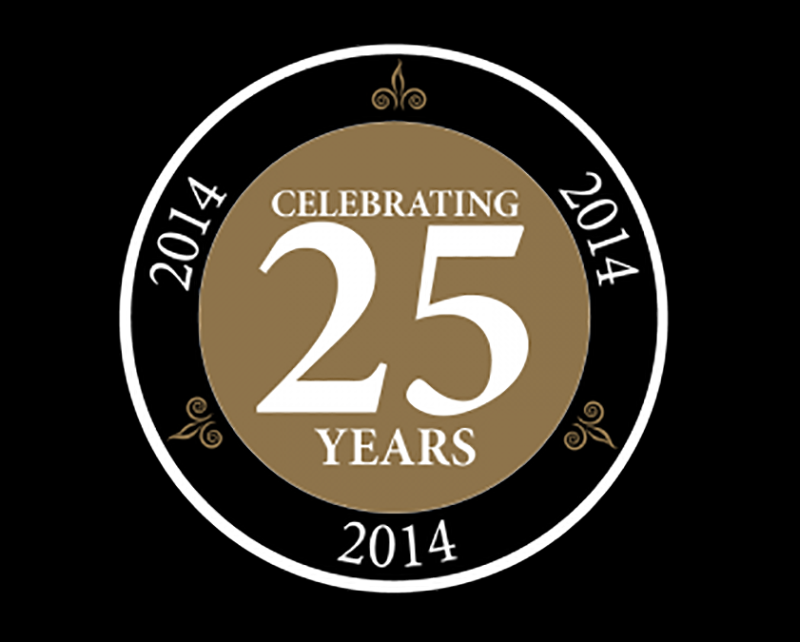 New Orleans Coffee Company Celebrates 25th Anniversary
Original New Orleans Coffee Concentrate Celebrates 25-Year Anniversary and a New Limited Edition Flavor
NEW ORLEANS, La., (2/24/14) – The original coffee concentrate and category creator, CoolBrew, manufactured by New Orleans Coffee Company, Inc. (NOCC), celebrates its 25th anniversary this year with the re-release of its limited edition Chocolate Almond flavor at the end of February. This popular handcrafted flavor was a favorite among CoolBrew fans 25 years ago, when it was originally introduced, and is available throughout 2014.
CoolBrew, the original cold-brewed, natural, fresh coffee concentrate, was created in 1989 by the late pharmacist and innovator Phillip McCrory. McCrory's quest for a better tasting and less acidic coffee led him to the rediscovery of the cold-dripped process long familiar in the city of New Orleans, America's first coffee capital. This cold filtration process involves cold-brewing coffee to extract the most flavorful essence from freshly roasted coffee using absolutely no heat. This process has been around in New Orleans for nearly 150 years but on a smaller scale until New Orleans Coffee Company created an innovative cold filtration process – "CoolBrewing" – to produce a fresh, all-natural, cold-dripped coffee concentrate on a much larger scale. The freshly roasted coffee is brewed very slowly using only cold water (as opposed to hot), which organically removes the acids usually found in hot-brewed coffee. In the case of CoolBrewing, the acidity remains in the grounds as opposed to the finished product – the coffee concentrate.
With the large batch, cold-brewing process nailed down to produce a fresh, highly concentrated and smooth coffee, McCrory sought a unique and brand-identifying bottle that would enable people at home to easily measure and pour a single serving of coffee. With the discovery of CoolBrew's now-iconic twin neck bottle, which promotes freshness by limiting air to the product, New Orleans Coffee Company officially launched in 1989 with Dorignac's as its first retail partner, followed shortly by the original Whole Foods on Esplanade Avenue, Langenstein's and a variety of other local retailers.
As word spread and demand grew for CoolBrew, McCrory employed sons Greg and Jeff to assist with his cold-brewing hobby-turned-business. In the business's infancy, Jeff drove around to local stores selling CoolBrew from a cooler in the back of his car. "When I first started selling CoolBrew, no one knew what a cold-brewed coffee concentrate was … it's exciting to see so much interest in cold-brewed New Orleans-style concentrates now … there are even people as far away as New York trying to make it," stated Jeff. Always more comfortable behind the scenes, elder brother Greg served as the company "bean counter," overseeing accounting and technology needs, which he continues to do to this day.
New Orleans Coffee Company prides itself on being a pillar of sustainability and is dedicated to doing its part for the environment. CoolBrew's coffee grounds have long been donated at no cost to landscaping companies for use in creating rich, fertile compost. NOCC currently donates its grounds to EcoUrban, a sustainable landscaping and soil company that, through a thermal composting process, transforms the grounds into premium garden soil, which is then sold at local farmers markets and select Whole Foods. CoolBrew's trademarked bottles are also recyclable, and the plastic used for the bottles was reduced by 25 percent in 2012. In 2001 the company's sustainability efforts were recognized with the Sustainable Business Award from the City of New Orleans from the Office of Environmental Affairs for the "Creative Reduction of Energy and Waste While Producing a Quality Product."
With national iced coffee sales up double digits and one in five U.S. consumers drinking iced coffee today, CoolBrew is widely regarded as the industry leader. For his groundbreaking efforts, Phillip McCrory was awarded the prestigious and coveted "Overall Innovator of the Year" award from New Orleans CityBusiness in 2002. Other brands took note and chose to work with New Orleans Coffee Company when producing their own coffee-flavored items, including Smoothie King, who was the first company to use CoolBrew as a product and, other than a brief hiatus following Hurricane Katrina, has been a partner for over 20 years. This successful formula led to other relationships, including New Orleans Ice Cream Company – CoolBrew is used to make its Coffee & Chicory and Café au Lait & Beignets flavors – as well as most recently with Tin Roof Brewing Co., which uses CoolBrew in its Parade Ground Coffee Porter, a seasonal craft brew. Initially launched only by the keg late in 2012, due to popular demand the Baton Rouge-based brewery released the dark, coffee-flavored beer in cans just before the 2013 holiday season and in plenty of time for the 2014 Carnival season.
NOCC also donates CoolBrew to many citywide community events, including Audubon Nature Institute's Zoo-To-Do, City Park's Celebration in the Oaks and the New Orleans Wine and Food Experience. It has been a staple at the New Orleans Jazz & Heritage Festival for 21 years. CoolBrew will also be featured in the Southern Food and Beverage Institute's upcoming modern coffee exhibit, which will highlight CoolBrew products as well as the pioneering contributions McCrory made to the world of modern coffee manufacturing.
Now a treasured Louisiana brand even touted by the New Orleans Convention & Visitors Bureau with the likes of Tabasco hot sauce and Camellia red beans, CoolBrew has been produced in the New Orleans area since its inception. The company remains a family owned and operated business led by brothers Jeff and Greg, who are turning their father's dream of making CoolBrew available for local purchase in every neighborhood store across the country into reality. And the magic happens with a modest 10-person staff comprised of mostly family. Jeff and Greg oversee production and finances while Greg's niece Danielle Boyce Batten manages the brand. Jeff's wife Julie and son Dylan work alongside him in production and bottling. "With a small team we all wear a lot of hats and work hard, but we also have a lot of fun," said Jeff. From the early days of cold-brewing in the McCrory family garage to its current 30,000-square-foot manufacturing facility in Mid-City New Orleans, NOCC is poised for its current and future growth.
CoolBrew is the original fresh, cold-brewed coffee concentrate manufactured by New Orleans Coffee Company in Mid-City New Orleans. While shelf placement varies from store to store, CoolBrew is always located in the refrigerated section of the grocery store. CoolBrew can be found nationally at The Fresh Market, locally and regionally at Rouses supermarkets and is available throughout the Southwest region of Whole Foods. It can also be purchased throughout Louisiana at most independent stores and chains including Wal-Mart. Visit https://www.coolbrew.com/coolbrew-partners/ for a list of retail partners or, to search for a store in your neighborhood, visit https://www.coolbrew.com/coolbrew-partners/sample-map/. Should CoolBrew not currently be available near you, use the CoolBrew suggestion form (download it, print it, fill it out and drop it off where you shop) to request it and in the meantime purchase online at our Amazon store. To learn more about CoolBrew varieties/flavors, product partners, retailers and recipes, visit www.coolbrew.com; follow CoolBrew on Facebook at www.facebook.com/coolbrew.
###
 CONTACT:
Danielle Boyce Batten
Coffee Pusher
CoolBrew/New Orleans Coffee Co.
P: (504) 488-2665, ext.110
danielle@coolbrew.com
Margaret Taylor
PR Account Executive
Peter Mayer Public Relations
P: (504) 378-6602
taylorm@peteramayer.com